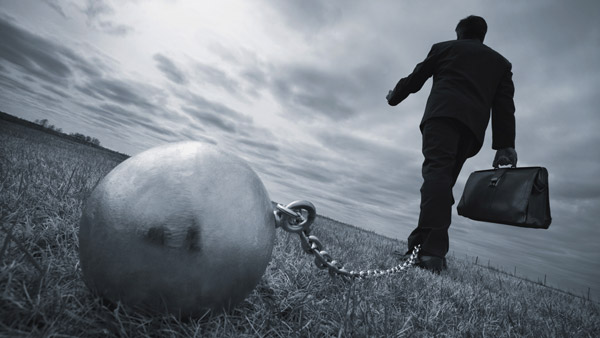 With leveraged loans, it looks similar to 2008
Excessive indebtedness, which caused the 2008 financial crisis and the 1997-1998 Asian financial crisis, has re-emerged in the US market.
According to Mark Zandi, chief economist at Moody's Analytics, leveraged credit is breaking new records, approaching $ 1.4 trillion. That makes it bigger than the $ 1.3 trillion high yield bond market. These loans to companies that already have significant debt have grown double-digit over the past five years, and about half have been securitized in Collateralized Loan Obligations (CLOs).
It is "far too early to conclude" that the non-financial companies receiving leveraged loans "will end the current cycle as subprime mortgage borrowers did last," writes Zandi in Moody's latest Outlook Analytics. There are significant differences between these two types of credit, but "the similarities are creepy," says Zandi.
The leveraged loan market and the junk bond market combined are nearly as large at $ 2.7 trillion as the subprime mortgage market at its peak, at $ 3 trillion. Leveraged loans, like subprime loans, also have adjustable interest rates, which can be problematic for borrowers if interest rates rise as they did before the financial crisis and are now rising at the short end.
Furthermore, writes Zandi, the most aggressive lending in the leveraged loan market is by private lenders outside the banking system and regulatory oversight, much like the most egregious subprime lenders before the financial crisis; and the demand for these loans is so great that lenders are easing their underwriting standards, much like they did just before the financial crisis hit.
A net 15% of respondents to the Federal Reserve's survey of senior lending officers at commercial banks said they lowered their standards for commercial and industrial lending to large and medium-sized customers this quarter. The last time loan officers relaxed standards so aggressively was in the mid-2000s, before the financial crisis. Covenants for leveraged loans and junk bonds have worsened.
And the financial markets do not seem to be concerned about accelerating growth in variable debt today, as they did then. "Global investors appear optimistic," writes Zandi, citing the tight spreads in the CLO and junk bond markets, but "the regulators are undoubtedly nervous."
Meanwhile, growth remains strong with US GDP expected to hit 3% this year, unemployment continues to fall and should fall to the low three from 3.9% in July, and wage growth accelerates causing price pressures leads on business.
At the same time, stock, bond and real estate markets are very likely to be overvalued by high multiples, think of credit spreads and low vacancy rates, which is causing the Federal Reserve to hike interest rates further to cool the economy, writes Zandi.