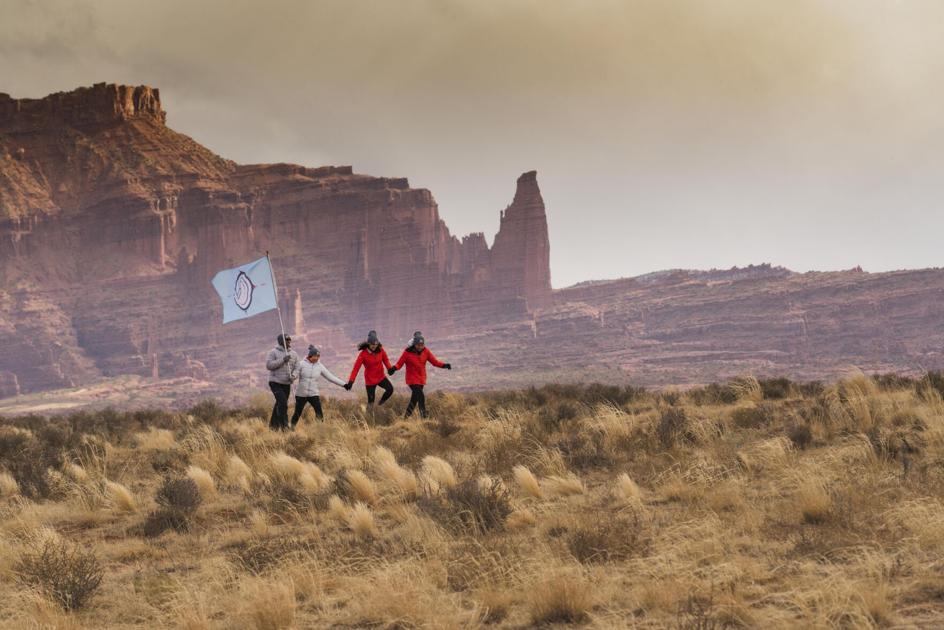 The Matthews Family on the "Survivalists" Reality Show | Entertainment
MATTHEWS – Samm Jones describes her family as athletic, creative, and outgoing, but one thing she says they're not is the outdoors – they never hike or go camping. Of course, that all had to change when Samm, Raymont, and their daughters, Jada, and Jade, got a spot on a reality TV show set in the Red Rock Land near Moab, Utah.
"It was brutal and outrageously crazy," Samm said. "I have a few checks on my bucket list, but it was so much fun."
The Jones family of Matthews spent three days in the wilderness in November as part of BYUtv's "Survivalists". The action-packed adventure series is hosted by professional endurance athlete Colin O'Brady and produced by Mark Koops ("The Biggest Loser" and "Masterchef"). Each episode follows two everyday families as they put technology aside and embark on a survival immersion course to reconnect and mend their relationships. The family that finishes first receives $ 10,000.
Jada, 19, graduated in 2019 from the Northwest School of the Arts and was pursuing her acting career in Los Angeles when she stumbled upon a cast for "Survivalists." She had returned home due to the pandemic and believed the show would be something fun that her family could do together.
They sent in an audition tape and went through several rounds of interviews before they were finally chosen, which Samm said she had never expected.
"We're just an ordinary American family, so just to be chosen, I feel like we've already won," Samm said.
The Jones family knew from watching the first season of "Survivalists" that the show would not only test their family dynamics, but also their outdoor skills and stamina. Although already a fairly athletic group – Raymont is training, Jada grew up dancing and Jade, a 16-year-old junior at East Mecklenburg High School, plays soccer – they started to walk more to prepare for all the hikes. They also enlisted the help of a family friend and former Scout who showed them how to make a fire, pitch a tent and tie knots.
Yet nothing prepared them for the cold nights in the Utah wilderness, or that Raymont would be forced to face his fears of water and heights.
"We really pushed each other in ways that we didn't know we could just with the physical aspect and the mental battle," Jada said. "Being able to do this together definitely brought us closer together. "
"We had no choice," she added. "We had been together all year, but we hadn't really bonded."
The Jones family said they entered the show ready to beat their opponent – the Renteria family of Maywood, Ill. – and win the $ 10,000 prize. However, this state of mind quickly faded as they got to know and bond through their common experience.
"Money got really insignificant to us very early on," Jada said.
"It was just about spending time with each other and getting through with the other family," Jade said.
The girls said that "Survivalists" reminded them how lucky they are all to be together and that every little moment counts.
"The whole trip was the best thing I could wish and dream of, especially at a time when families are losing loved ones and not spending time together," Jade said.
"It was a great experience and I don't think we would have liked it any other way," added Jada.