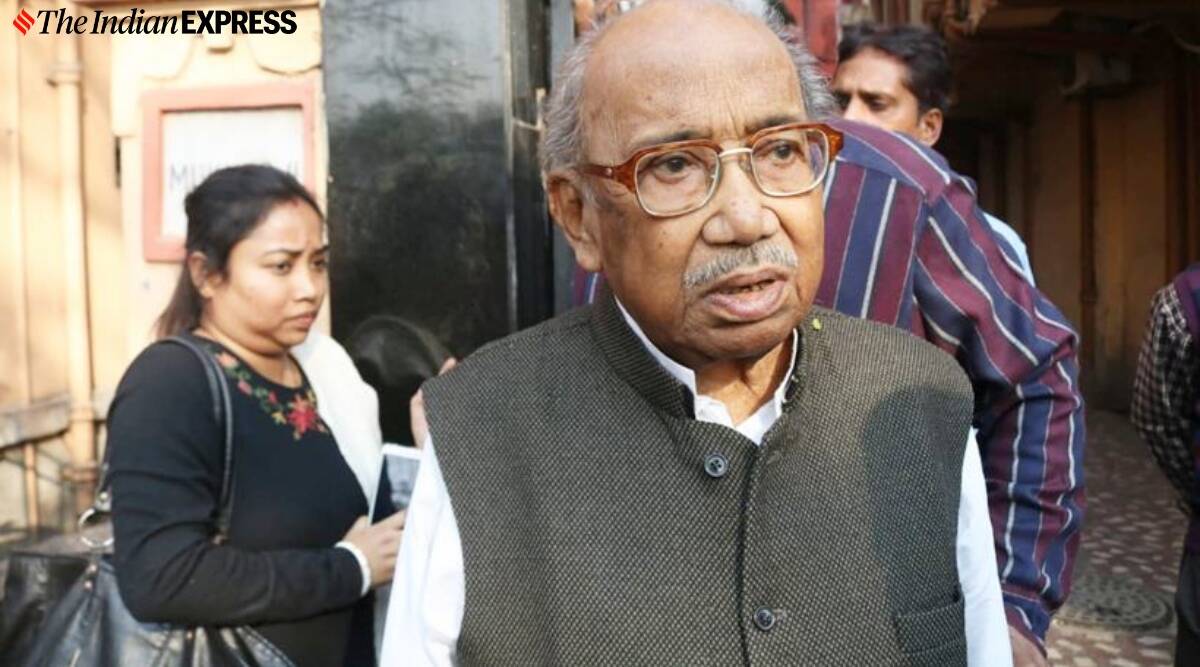 Tarun Majumdar: the genius charmer of Bengali cinema
The collective consciousness of film scholarship in Bengal was, until recently and overwhelmingly indebted to the triad of Satyajit Ray, Ritwik Ghatak and Mrinal Sen. The problems of such a trio-theism are nowhere revealed more clearly than with the passing of an aged talent from a time when Bengali cinema mattered. Tarun Majumdar, who died earlier this week, was no exception. He was sorely underestimated in his glory years and his death sparked a resurgence of collective nostalgia. He didn't deserve both.
Tarun Majumdar made his debut as part of Yatrik, a vivid example of a unique phenomenon in Bengali cinema – a group of ensemble directors. Yatrik's first film, starring the then highly successful couple of Uttam Kumar and Suchitra Sen, was Chaowa Pawa (The Paths of Romance, 1959). It was a deft and lovely adaptation of Frank Capra's runaway bride theme. It happened one night being the closest reference. It was on the set of this film, and while he was passionately describing a twilight scene in Uttam, that the star stepped in and asked Majumdar if he was likely to direct himself. Whether that played a role or not, it took him a few more years to do so. But the other three films that Majumdar made as part of Yatrik — Smriti Tuku Thak, Kancher Swargo and Palatak are eminently memorable. In reality Kancher Swargo (Brittle Paradise, 1962) could well claim to be part of the pantheon of popular Bengali cinema.
Majumdar came alone with Balika Badhu (The Child Bride, 1967), a film that charmed a generation and remains its most memorable film. With this film, he resolutely turns away from the cinematographic and narrative space that Bhadralok urbanist cinema had been carefully evoked in the 1950s and continued to invest heavily until the mid-1970s. Majumdar stayed away from this, preferring to reinforce his natural affinity for lives lived away from the convolutions of urban life . His next 10 years saw people like Nimantra (The Invitation, 1971) and Fuleswari (The Vagabond, 1974) – two quite watchable romances tapping into the everyday desires and survivalism intrinsic to the people of Bengal. Indeed, all three, being adaptations, worked well at the level of being a-temporal representations of an imaginary bucolism. This was no coincidence, for at that time Bengal was in turmoil. More than ever, those who cared about the state needed the reassurance of sound-rich, free-form idiomatic novels.
But perhaps his two best films are those where he played with genres and sought out atypical spaces, moving beyond his favorite stomping ground of rustic romances. Sansar Seemantey (At the Edge of the World, 1975) was a romance as engaging as it was real – between a thief and a prostitute in Calcutta. It didn't entirely avoid the sentimentality of brothel life, but still managed to coax the narrative into a heartfelt creation from the lower regions of Calcutta. The film was bolstered by Rajen Tarafdar's lean screenplay and Soumitra Chatterjee's unusual and superlative turn as a lowly, hunted con man. The other, Sriman Prithviraj(The Young Conqueror, 1973) an endearing mix of fantasy and folklore was his best film. The story of a young boy with a streak of harmless mischief who finds himself entangled in an untimely marital bond, the film was truly humorous, absorbing and absolutely charming. The film's main attraction was Utpal Dutt – the clumsy provincial patriarch who, in his eagerness to please his British boss, speaks English hastily and blunders effortlessly. Just the thought of Dutt, a Shakespearean at that, to pull off what has proven to be one of his most treasured roles is a riot in itself.
As the 1980s dawned and the Left Front came to power, Majumdar, like most of his peers, lost most of his gifts, humor being the most obvious. But he stuck determinedly, thanks to his belief perhaps in left-wing rhetoric, to his obscure portrayal of rural life in the 1960s and 1970s, which seemed increasingly vapid. His films from the 1980s, shot anyway by performers of average ability, are impossible to watch, mainly due to their almost infantile belief in the goodness of humans and the essential awesomeness and completely unreal depiction of rural life. . The same simplicity and the same ingenuous confidence generally poison his recent and long memoirs. Cinemapara Diye (Across the Cinema district) but like his early cinema, there are moments of pure charm.
Majumdar certainly deserved a far greater role among those who had the arduous task of building the long and ennobling history of Bengali cinema. And with him, surely an era ended, because there is no longer any filmmaker of this period. But it is also true that this era actually ended 40 years ago. Much of what has happened since then, as we now know, is just white noise.
The writer teaches at Ambedkar University in Delhi. He is the author of Uttam Kumar: A Life in Cinema (Bloomsbury, 2021)