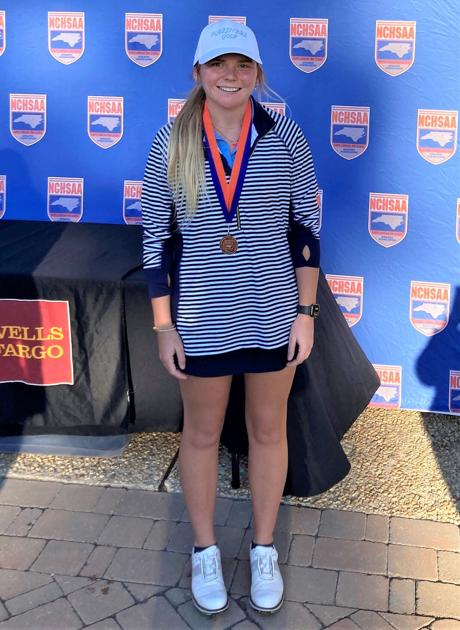 STUDENT-ATHLETE OF THE WEEK | Sports
BEAUFORT – Jenna Rutledge is not only the best golfer in East Carteret history, and it's not even close, but she could be said to be the best golfer in the history of the county.
The past four years have provided a lot of ammunition for this argument.
She has finished third at the 1A / 2A State Tournament in each of the past two years and has finished seventh in second year. Add to that a regional second place as a senior, a regional third place last season and three conference championships, and she's built one hell of a career.
"A little, but not too much," Rutledge said when asked if she was aware of her place in the history of the county. "I'm just doing my thing."
The oldest is arguably the most unique golfer in the history of the county.
When she qualified for the state tournament as a freshman after winning a league title and taking seventh place in the 1A / 2A East Regional, Rutledge did something no golfer in the East did. had never done before.
She continued to do this three more times.
"I look back and it's funny, because I only tried golf in seventh grade because my friends were trying their hand," she said. "I heard you were leaving school at 12:30 pm (pm) to go to games, and I was like 'OK'. I picked it up for fun, and here we are.
Rutledge won a lecture title during his two years of college and won the top three of his high school career. She would have been 6-6 overall, but East has not played in a conference this season.
In freshman, she shot 97 and 95 over two days of golf at Foxfire Golf and Resort in Foxfire Village to take 34th place in the state.
She never finished outside the top 10 again.
"If someone had told me I would be in the top 10 for three straight years, I wouldn't have believed them," Rutledge said. "Sure, you always hope, but it's never been an expectation or anything that crosses my mind."
In sophomore, she shot 80 on two days at Longleaf Golf and Family Club to take seventh place in the state. This year, the 1A / 2A State Tournament returned to Longleaf, and Rutledge scored an 81 on day one and an 80 on the second to place third.
"I would have liked to have played maybe a little better the first day," she said. "I was hoping to do a little better, but I can't complain too much. Overall, I was excited. The senior year and all, I wanted to do something big so it was pretty cool to put myself in and get another medal. I take it."
Conditions were tough this year with wet and wet weather creating a 30 minute delay on the first day, while the second day was windy and cool.
Rutledge had her best regional result this season, taking top honors with an 81. Only eventual state champion Lily Rowe of Raleigh Charter finished ahead of her with a 72. As a junior, Rutledge won the third place in the region is with an 80. She then finished tied for third in the state reunion with a 77. Last year's state reunion, which was held in the spring, has been limited to one day due to the coronavirus pandemic.
Filming in the '70s is not unusual these days for Rutledge. She has established a career low in consecutive weeks this year, posting a 75 at Minnesott Golf and Country Club and then a 74 at Cypress Landing Golf Course.
"I was on a streak there for a second," she said. "I'm just trying to get out without any expectations. I always hope I can do better.
Those numbers eclipse any she posted in freshman.
"I remember going to a conference that year and I was so excited to shoot an 85," she said. "And now I'm disappointed as a senior if I shoot this. It's cool to see your scores drop year after year.
Another aspect of her career that makes her unique is her school of choice. While playing for East Carteret, she attended Early College of Marine Science and Technology (MaST) high school. She is eligible to play for the Mariners as she lives in the school district.
"I enjoyed it," Rutledge said of her stint at MaST where she sports a 4.7 GPA. "I really like him there. It was different, but I don't think I would change that.
And now she has to decide where to go to school next.
"I'm not quite sure about college," she said. "I hope I will play golf. I am grateful to have a few options. I look at Methodist schools in the state and some schools out of state, even some on the west coast, because my parents are planning to move to Alaska as soon as I leave for college. Everyone will then move.
She said she was interested in studying business or maybe engineering.
Here are some of Rutledge's favorite things, along with her ideal groups to dine with and survive a zombie apocalypse, and the five items she would take with her to a desert island:
Favorite movie: "The Breakfast Club".
Favorite TV Show: "Parks and Recreation".
Favorite cartoon: "Scooby-Doo".
Favorite Band / Artist: Taylor Swift.
Favorite song: "26" by Caamp.
Favorite book: "Hillbilly Elegy" by JD Vance.
Favorite Team: Alabama Crimson Tide.
Favorite athlete: Justin Thomas.
Favorite Vacation: Prince of Wales Island, Alaska.
Favorite hobby: Eating.
Favorite subject: Sciences.
Favorite Quote: "If you don't believe in yourself, somewhere or another, you are sabotaging yourself." – Jason Day.
Favorite food: Chicken fillets.
Favorite drink: sweat tea.
Favorite restaurant: Plaza Mexico.
Preferred season: Fall.
Favorite sporting memory: Shoot a 33 over nine holes at the Beaufort Club.
Favorite teacher: Ms. Kendall Nifong.
Favorite sport: Golf.
Favorite pre-game / post-game ritual: eating bojangles.
Favorite website / app: Snapchat.
Favorite social media follow-up: PGA Tour (@pgatour).
Perfect dinner guest list: Taylor Swift, Kanye West, Aubrey Plaza, Hellen Keller, and Elon Musk.
Perfect group to survive a zombie apocalypse: Corrie Rose, Charlotte Bickley, Paul Lewis, Ella Hamilton, Sam Lewis and trainer Sholar Warren.
Items for a desert island: chicken, shoes, bandages, hammock and fire starter.