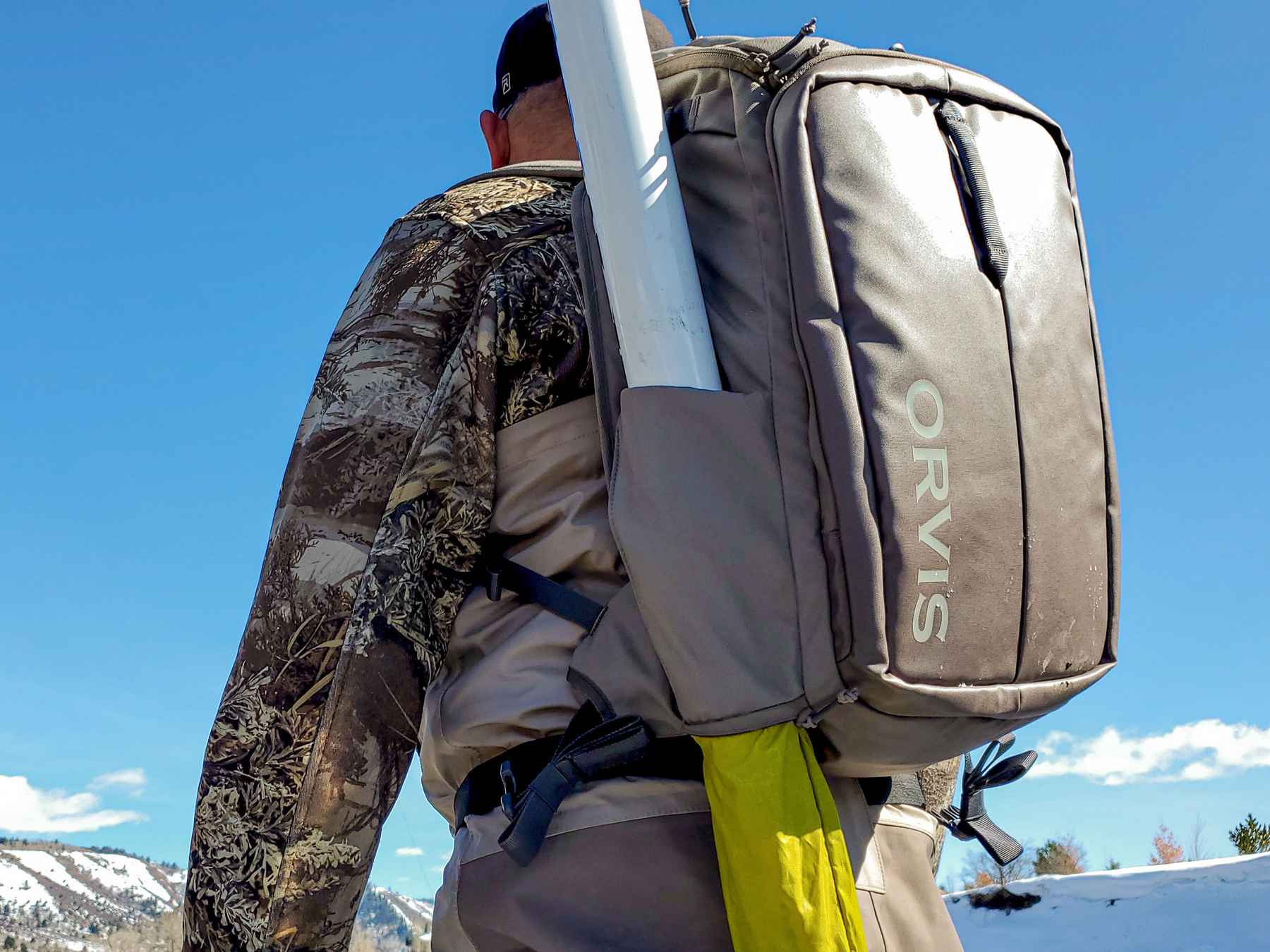 Review: Orvis Bug Out Fly Fishing Backpack | Outbreak Magazine
I was on my way home after a long day of fishing the fierce upland streams when a friend called me and asked if I was busy tomorrow.
"No I said." Why? "
"Do you want to go float the Green?" "
I accepted straight away, even though I was seven o'clock from the Green and it was already dark. If I was driving all night – with just a quick stop for a few hours of sleep in the truck – I would be there on time.
The float was fantastic, and in the end I chose to make one more stop before heading home. The next morning I drove to a remote section of the Wyoming River and spent the day hiking and fishing to my truck. By the time I got home that night, I was completely exhausted.
As I unpacked my truck, I sighed at the mess my gear was in. Fly boxes and float were in my jacket, but the extra tip and clips I needed that afternoon were in my day pack. My water filter was completely missing and I thought I had lost a hose reel. None of my equipment was out of place, mainly because nothing had a defined place. Add in the rush of two unplanned trips – one on a drifting boat, the other through Wyoming – and it's no wonder I couldn't find what I needed.
Over the years, I had tried to alleviate the clutter by putting everything in scarves, vests, and even backpacks, but I was still running out of space. Plus, these packs all hurt my back in several ways. I had resigned myself to a messy system of backpacks that weren't designed for fly fishing, filling my shirt pockets with extra gear and hoping for the best.
Earlier this year, when Orvis presented their new collection of bags and backpacks for anglers, I saw what I thought was a solution to my packaging and transport problems: the new Orvis backpack. Bug Out Fly-Fishing.
Whether it was a dedicated drop bottom rod tube holder for docking stations on the shoulder straps, the Bug Out backpack looked like everything I needed in a fly fishing bag. . After a few months of heavy use, the Bug Out backpack turned out to be almost exactly that.
What works
Storage + Organization
Like every other fisherman I know, I have more gear than I will ever use and tend to carry more gear than I need. Still, the 25 liters of storage space in the Bug Out backpack gives me more space, even after filling it with fly boxes, extra spools, tippet, clothing and various other gear. outdoors.
Orvis did a fantastic job maximizing the storage space in this backpack. The top of the bag provides access to a shallow storage section which is a perfect place for gear you need to access frequently, or for your sandwich and snacks. It also has a zippered sleeve that adapts to sunglasses which is a fun feature that I have used more often than I thought.
The main bag storage compartment is spacious and has a zippered mesh pocket and removable divider, so you can keep your gear organized. There are two ways to access it: from the top, via a secondary zipper in the shallow storage section, or directly via a zipper panel on the side of the bag. So if you want to skip your snacks and sandwich or whatever else you've tucked away in the shallow storage section at the top, you simply tilt the Bug Out backpack to the side, unzip, and you have access to everything in the main compartment. This is where the removable divider comes in really handy, neatly separating everything in the main compartment.
The front of the pack provides access to a padded pocket designed to fit a hydration bladder or laptop. Orvis designed the Bug Out Backpack with more than one use in mind – which is evident throughout the product – but you really see that philosophy shining through here.
Anglers like me, who travel with a laptop or tablet to edit photos on the fly, or to watch movies when it's impossible to sleep, love this kind of dedicated space. For anglers who fly or drive to their destinations more often than hiking and camping, the Bug Out Backpack suddenly becomes a great airplane carry-on and fits perfectly in the front seat of a car. Versatility is the key to fly fishing – especially in our gear.
Those who wear a net while fishing have two options:
On the left side of the package is a combined bottle / tube holder for water bottle (shown above). This is my favorite feature of the Bug Out backpack. I can't count how many times I've stuffed rod tubes into pockets of water bottles on day bags, only for the tubes to fall off, tilt in my head, or hit low limbs.
Orvis designed the Bug Out backpack's water bottle pocket with a drop bottom. It's a long sleeve that goes down far enough to bring the top of a rod tube almost level with the top of the pack. It's a fantastic feature that really shows the attention to detail Orvis is known for. I think that's the biggest selling point of the pack. I don't know of any other backpack on the market that has a folding bottom compartment for carrying fly rods.
Orvis really went the extra mile to not only squeeze every possible storage space out of this pack, but to make that storage space as efficient and easy to use as possible. The pockets and zippers are placed intuitively and often optimally, a fact that becomes more and more evident the more you use the bag.
Build quality and sustainability
Orvis has fully embraced Cordura fabric on just about anything imaginable. The Bug Out Backpack is made from 100% recycled Cordura ECO fabric, which is surprisingly resistant to abrasion and puncture. The zippers are snug and make it look like they'll stand up to abuse easily. After several months of service on the water, riding in the back of my truck, pushed to the bottom of a drifting boat, and so on, the Bug Out backpack doesn't look any worse for wear.
Time will tell how well it withstands a full season of use and abuse in the highlands, but I have found that I am often harder on my gear in my drift boat than anywhere else. The bags are strewn underfoot, trampled on, submerged in water and covered with moss, rocks and other debris. The fact that the Bug Out backpack shows no signs of wear is an indication that it is likely to last for several seasons of long, bush-filled day hikes to my favorite secluded lakes and streams.
Integration with other products
The new Orvis packs introduced for 2021 (the Bug Out Backpack, Chest Pack, and Chest / Hip Pack) are all designed to fit seamlessly together. And so, ever since I started fishing the new Orvis Chest Pack, I can't wait to see how well it fits with the Bug Out backpack. While I can't speak to how the chest / hip pack works with the Bug Out backpack, I absolutely loved the integration with my chest pack.
The Orvis Bug Out backpack with the attacked Orvis Chest Pack (Photo: Spencer Durrant).
Thanks to two recessed clips on the front straps of the Bug Out backpack, I can clip my Chest Pack directly to the front of the Bug Out bag. Once the Chest Pack is clipped onto the Bug Out Backpack, the combo becomes the best flight gear storage system I have ever used. All of my flies, tippets, pincers, floats and other terminal equipment are nestled directly in my chest. Everything else is stored in the easy-access pockets of the backpack. It really is a nifty way to have the best part of an entire fly shop with you wherever you are fishing.
Versatility
I know I've mentioned this before, but it bears repeating: The Orvis Bug Out Backpack is one of the most versatile fishing bags I've seen in a long time. Need something that stores extra rain gear, snacks, reels, and flies for a drifting boat trip? Or something small and compact enough to function as airplane carry-on luggage? Or how about a lightweight yet durable backpack for backcountry hiking? The Bug Out Backpack does it all. For its size and price, it is a remarkably versatile piece of equipment.
What does not work
Hip straps
I appreciate the inclusion of the hip straps, but they're just a little too small to do much good. For an athletic overweight (read: fat) fisherman like me, I need a little more support. I like that the hip straps can be stowed away if you don't need them, but I would prefer more support if they are included. I understand the bag only holds 25 liters of gear, but if anyone can find the heaviest 25 liters to carry around all day, it's fly fishermen.
No second pocket for water bottle
Since the only water bottle holder in this pack doubles as a tube holder, you're out of luck if you want easy-to-reach water and plan to take a tube with you. Granted, you can stow a water bottle in the shallow pocket above the main compartment, or even in the main compartment itself, which you can quickly access via the right side zipper. This problem is also alleviated by the dedicated pocket for a water bladder or your laptop, if you prefer water pockets to bottles.
Photo: Spencer Durrant
Last word
The Orvis Bug Out Fly Fishing Backpack is one of the most thoughtfully designed gear I have ever used. Everything on the packaging has a functional purpose and Orvis has not added unnecessary window coverings. It's incredibly versatile, has room for a boat load, and I love the innovative rod tube holder. Many features of Bug Out Backpacks are game-changing for fly fishing day packs, and I won't be the least bit surprised to see several of them copied by other brands.
The Bug Out Backpack is the best fishing focused backpack I have found and designed to meet the needs of a wide variety of anglers. Whether you're on the flats, in the High Rockies, or somewhere in between, the Bug Out Backpack is probably the answer you've been looking for when hauling gear.
BUY ORVIS BUG OUT FLY FISHING BACKPACK