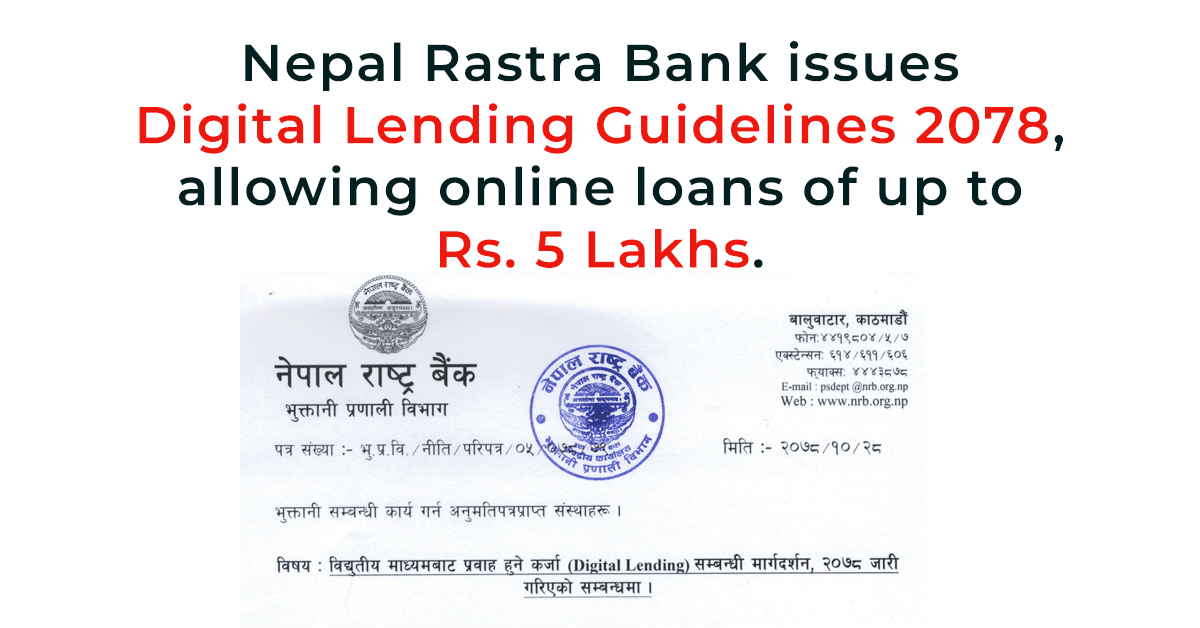 NRB digital loan guidelines allow loans of up to 5 lakhs in Nepal
As per the new Central Bank of Nepal digital lending guidelines, banks in Nepal can now lend up to Rs. 5,00,000 for people applying for loans online.
The Nepal Rastra Bank, the central bank of Nepal, issued the new one Digital Loan Policy 2078 on February 11, 2022.
Under the guidelines, people who have salary or business accounts with BFIs can apply for loans up to Rs. 5,00,000. For other account holders, the central bank has set a limit of Rs. 2,00,000 for digital loans.
The loan can be repaid in installments over a period of up to three years. Banks and Financial Institutions (BFIs) can also partner with e-wallets such as eSewa, Khalti and IME Pay to act as agents to facilitate loan applications and repayments.
Digital transactions in Nepal
The number and volume of online transactions are increasing rapidly in Nepal. The development and expansion of digital transaction infrastructure such as Real-Time Gross Settlement (RTGS), Interbank Fund Transfer, Payment Card, Mobile Wallet and Internet Banking have all contributed significantly to the growth of online transactions.
Digital lending will help streamline the loan application process as customers no longer need to visit the bank in person. It will also help BFIs save time and money.
However, this is not the first time we have heard about digital loans in Nepal. In March last year, F1 Soft, a Nepalese fintech company, launched Foneloan, which provided instant loans digitally and without the need for collateral or paperwork.
However, the loan resettlement period through the service was only 30 days. Similarly, Kumari Bank had also launched the Buy Now, Pay Later (BNPL) service in December 2021. It allowed customers to get a loan from their mobile banking app on EMI for up to 12 months.
Both services had a maximum lending capacity of Rs. 2,00,000, required each bank's mobile banking app and relied on analytics software. They differ from personal loans.
ALSO READ: Hamro Patro TeleHealth Service received over 500 calls within the first 3 months of its launch
Digital Borrowing Guidelines
According to the guidelines, banks and financial institutions must maintain their own portal for loan applications, through which customers can submit the required documents digitally.
In addition, BFIs can accept loan applications through their mobile banking applications. Loan applicants must then be notified digitally when their loans are approved.
The guidelines stated that banks and financial institutions should securely store customers' data and their financial information. The data may not be used or passed on for purposes other than credit processing.
If the customer does not repay the loan, the BFIs should inform them Credit Information Bureau of Nepal to blacklist the customer, the central bank said. The central bank also requires BFIs to submit digital loan details to them every three months.
Payment service provider as agent
As mentioned, the guidelines allow banks and financial institutions to enter into agreements with payment service providers to act as intermediaries for digital lending.
The central bank said payment service providers should clearly inform customers about which banks or financial institutions they want to borrow money from.
Payment service providers should also develop a system to automate the processing of loan applications and the collection of principal and interest.
The central bank says BFIs can only charge customers for service fees and third-party fees, and the fees should be made clear to customers.
When payment service providers act as official representatives of the bank or financial institution, the guidelines state that service providers should not collect service fees directly from customers; rather, the BFI should treat them.
CONTINUE READING: NRB instructs digital payment providers to implement interoperability in Nepal