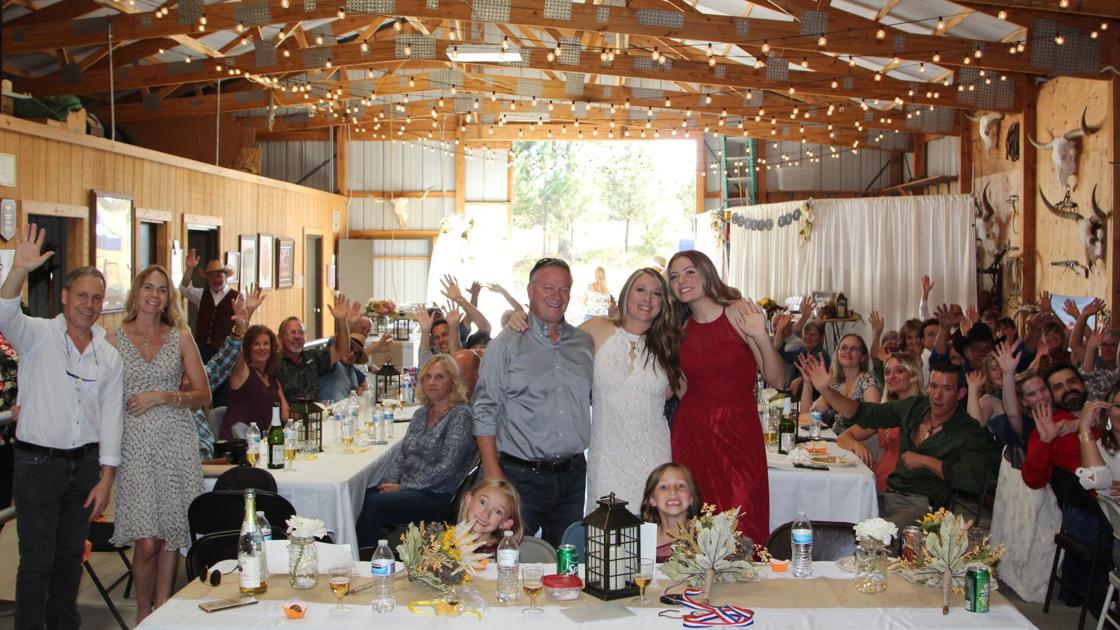 Monumental, matrimonially, happily forever | Along the divide | The gallery
It was a weekend that will be hard to beat. Yes, we did it again – and completely sober this time! (A joke that Marissa has heard enough by now, I think.)
It seems to be the right thing to do these days, this practice of simple and low-key weddings followed at one point by full celebration with friends and family. I wasn't totally convinced by the idea at first, but it turned out quite beautiful and moving in our case, starting in Nashville on August 31st and being taken home (literally) to the ranch on Sunday the 26th. September.
Call us wolverines to punish them, by planning our own 'remake' ceremony and cleaning up the day after our friends Patrick and Mollie Sawhill's wedding party (a truly epic occasion a few months after their own wedding), and I don't recommend it to the faint of heart. There were some perks to this two-fer, such as having the barn already in party mode on Sunday, cutting errands in half and enjoying an absolutely perfect weekend in terms of the weather (hot even on Sunday, which beats the always possible drizzle or snow at the end of September).
I never needed a lot of excuses to gather friends for the general merriment and merriment, and this monumentally memorable weekend was worth the price of admission on that basis alone. The worlds collided … from my elementary school years at Evergreen to graduate school in Denver (Rockmont College in Lakewood, to be exact; now known as the main campus of Colorado Christian University) to fellow musicians, fellow students in bedroom, car trade buddies and other friends and family. Very gratifying, especially considering the Broncos were in action that afternoon as we took our vows before God and duty officer Denny Roth. (No need to wonder how much we lost before the DVR!)
Entertaining with Ashtonz at the Saturday event (thanks again to the Sawhill team for the vote of confidence) was an honor, as was the big country group Mosquito Pass serenade after our own exchange of vows on Sunday. And is it better, in terms of wedding gifts, than having a pig from Sara's Sausage in Palmer Lake provided and roasted by our good friend Brian Sibell (who started the pork smoking process around 3 a.m. this morning? day)? Wow. Thanks again to Brian, Karen and Jake for maintaining the kind of community connection that would make Si and Dorothy. (If you're not plugged into the Sibell family's place in the Tri-Lakes tradition, it's worth exploring online a bit.)
Let me state here that Marissa did the heavy lifting of love, as well as the light and tender touches that didn't go unnoticed… thank you again, Mr. Among the other people whose efforts have helped matters to. go as smoothly as possible. expected (given the 300 or so arrivals and weekend visitors) were our party group, including Sandy Coyne and Marie Belline, patty makers Lucas and Rylee Hultman (from here in the neighborhood), the grill supervisor Shawna Swierc (whom I met when she was running the bistro at the Tri-Lakes Center for the Arts a few years ago), Sunday burgermeisters Carol Dilk and her husband Mark and general assistant Liz Sperling. Thanks everyone!
It was great to have on hand Saturday's Pasture Tour driver Tom Tsakopulos, whose story will connect us forever. Tom and his fiancee Melinda got engaged earlier this summer, seven years to the day after their first date at our barn-bash on July 5, 2014. It must be something in the barn water… Cheryl Rogers (owner of Chyann's Pet Care in Monument) met Gary Nylund here a few years ago, where a first dance led to what is now sho-nuff. And my dad, Stan, and his wife, Susan, crossed paths here for the first time last summer… should I continue? Consider yourself warned!
(Funny notes: The used Mercedes SUV that I tried unsuccessfully to sell to Marissa in 2016 when we were just acquaintances ended up being bought by Karen Zencius of Parker. Karen's marriage to Rob Matson was played by Ashtonz, who was also performing at Palmer Lake Pub in January 2021 for Patrick and Mollie's first outing in the area. Crazy.)
Having my son Mike standing with me and Marissa's daughter Lili doing the honors by his side (along with my granddaughters Rowan and Salem and their new BFF Mylah, the youngest of Marissa's three children) added tremendously to the occasion. . As humbling, gratifying and semi-surreal as being joined by so many near / dear ones, there were notable holes in the crowd. I particularly missed my mom Lorna and late sister Shelley there – they too would have loved Marissa. And for the record, I won't listen to a friend's words after a tennis match the other day when I played particularly well: "you should get married more often!" Uh no. I think I'll quit while I'm (well) early. Over to us, kid!
Charlie Searle has lived in Monument since 1994 and is active in various activities in the Tri-Lakes region, as evidenced by his slogan "Meat, Motors, Music, Media". Contact Charlie at [email protected].