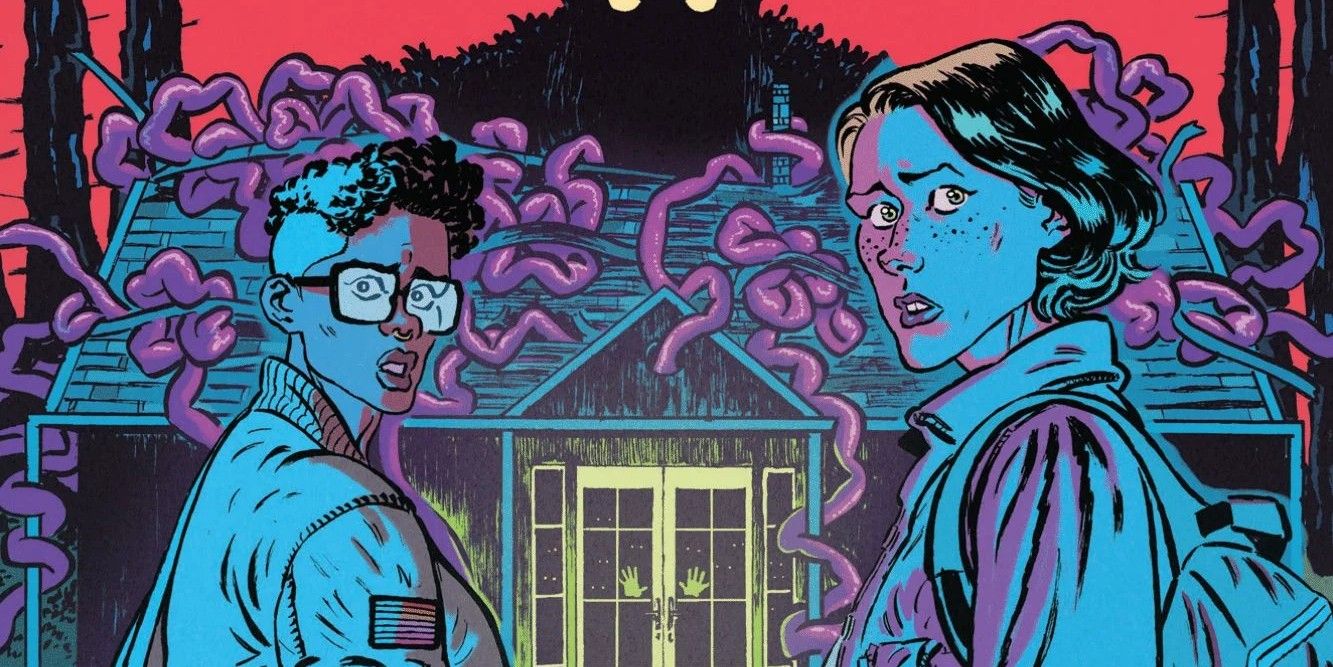 Image Comics delivers surreal horror in I Hate This Place #1
In the new Image Comics series, I hate this place, co-creators Kyle Starks and Artyom Topilin bring the horror to the middle of nowhere for a surreal, funny and gruesome debut issue. Joining the creative team is Lee Loughridge on colors and Pat Brosseau providing lettering. Best known for high concept action comedies like The Six Sidekicks of Trigger KeatonAssassin Nationand the Kickstarter-funded project old head, writer Kyle Starks branched out with this series to make a simpler horror thriller. Yet he can't avoid infusing the characters and the story with sharp dialogue and funny moments. Topilin's art, by turns clumsy and unnerving, brings this strange world to life. I hate this place #1 manages to set up mysteries and horrors while making readers care about the inner lives of its characters, and readers can't ask for much more than that.
In I hate this place #1, Gabby just inherited Rutherford Ranch, a cattle farm in the middle of nowhere, from her recently deceased great-aunt. She and her partner Trudy have just moved in. Gabby thinks it's the first step to financial freedom, but Trudy, a doomsday prepper, isn't so optimistic. Ignoring warnings that the ranch is a magnet for UFOs, the couple soon discover that aliens might be the least of their worries. There is no escaping Rutherford Ranch or its many mysteries.
RELATED: Bloody Step By Step Turned Into A Fairy Tale – With Two Horrifying Betrayals
Topilin's art strikes the right balance between comic and realism to make the horror and gory moments menacing and playful but not overly off-putting. His use of heavy blacks and swirling perspective lines to signify moments when the world plunges into the surreal provides a uniquely evocative element to the visual language of comics. It's as if the world is turning in on itself, and readers are drawn directly into its horrors. Topilin makes the remote ranch, which should be a sprawling and liberating expanse, feel cramped and crowded. The backgrounds are tight, and the first full-page image of the farm is crammed around the figures in neat symmetrical lines. Door frames and windows are a recurring visual motif, reminding readers that the cast is always on the threshold of something unsettling.
This is not, despite Gabby's insistence, a fresh start. It's a jail. Loughridge's pastel colors give the whole number a supernatural feel. Brousseau's lettering works with art to move in and out of scenes, and, in particular, the sound effects work in tandem with Topilin's linework to not only evoke a sound but ensnare its characters. Without a soundtrack to captivate the reader or increase the tension of characters wandering in the dark, the sound effects provide that feeling of stifling dread.
RELATED: Image Comics' Twig Features a Whimsical Plot
Kyle Starks' structure is impeccable, opening the story with a brief violent prologue before abruptly shifting into what should be an idyllic road trip between a young couple. Without knowing how these disparate storylines are connected, there is an immediate association that implies that something is going to go wrong for these nice people. Clips from Gabby's childhood intrude on present-day scenes and hint that she knows more about the ranch than she lets on. Unsurprisingly, Starks' dialogue is lively and funny. He took his comedic storytelling sensibilities and applied them to this horror story to build up its darkest moments and contrast the humor with the terrors that await the characters. With a mix of UFOs, poltergeists, ghosts and horned monsters, it feels like anything can happen.
Most importantly, the characters, their personalities, and their dynamics are presented and crystal clear. Gabby is desperate to start a new chapter with a naïve optimism that things will inevitably turn out for the best, while Trudy is a doomsday prepper armed and ready for the worst. Their dynamic is a playful opposition, but the slowly looming mysteries tease that there's more they haven't shared with each other that could tear them apart. I hate this place is an outstanding debut that firmly establishes its world and characters, creating an immediately engaging and thrilling story. There may be no escape at Rutherford Ranch, but with so much to enjoy, readers won't want to.
I Hate This Place: Kyle Starks Embraces The Lure Of Horror
Read more