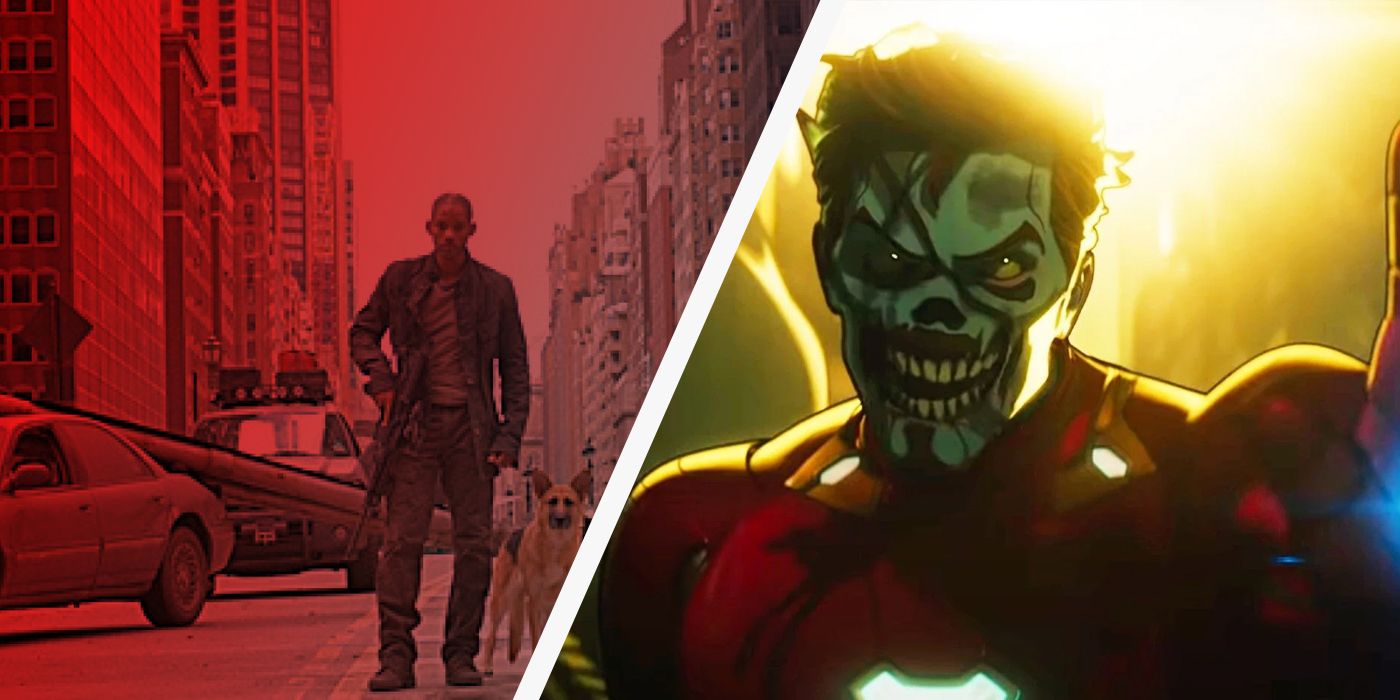 Every zombie movie reference in What if …? Episode 5
Warning: this article contains spoilers for What if…? episode 5.
Episode 5 of the hit Marvel spin-off What if…? presents an assortment of Easter eggs from zombie movies and references. Much like the rest of the series, the story offers an alternate take on some of the MCU's most iconic characters. However, by combining these familiar faces with tried and true zombie tropes, the end result is a unique departure for the MCU that functions as both a superhero story and a zombie survival tale.
The show features an alternate reality to the live-action MCU timeline, depicting a storyline in which nearly everyone on the planet, including several of Earth's Mightiest Heroes, succumbs to a deadly zombie virus. Classic characters, such as Iron-Man, Doctor Strange, and even Captain America are infected, leaving a team of survivors including Peter Parker, Bucky Barnes, and the resuscitated head of Ant-Man to lead the fight for survival. The plot sees those who remain battling an undead scarlet witch, finding a cure in the form of the Mind Stone of Vision, and taking on hordes of trailing zombies.
Related: MCU Just Confirmed What It Would Take For Bucky To Get Cap's Shield
Not only does the zombie plot device allow What if…? to explore genres beyond the traditional superhero mold, but it also offers the opportunity for many tributes to classic genre hits. Ranging from popular decades-old zombie mainstays to more modern favorites, the episode is packed with references to other beloved films. Here are all the nods to the zombie movies included in What if…? episode 5.
the land of zombies
Upon opening the episode, Peter Parker provides audiences with a helpful list of rules for surviving a zombie apocalypse. This meta moment is not only reminiscent of Wes Craven's slasher movie. Scream, but also the zombie hit directed by Woody Harrelson the land of zombies. A key plot device in the land of zombies is the constant reference of Jesse Eisenberg's character to his own rules of survival. While they are often not as practical as Peter Parker's suggestions, the connection between the two is clear.
Brain death
Peter Jackson's cult horror comedy from 1992 is one of the bloodiest films ever made. So it's perhaps surprising to see him referenced in Marvel's distinctly PG-13 animated series. In the film, the protagonist Lionel is forced to try to take care of his mother Vera, a zombie, by locking her in the basement of their house. It is reminiscent of Vision's attempts to keep Wanda Maximoff "alive," despite her transformation into a zombie.
Train to Busan
One of the most original zombie movies of recent years, the Korean hit Train to Busan Get your adrenaline pumping as you place survivors of the zombie apocalypse on a high speed train. This parameter is clearly referenced in What if…? Episode 5, as an extended battle between a zombie Captain America and Bucky Barnes also takes place on a train. Much like in the original film, the survivors board a train in an attempt to seek safety, providing another link to the blockbuster feature.
Related: Train To Busan Movies: Viruses And Infections Timeline Explained
Planet terror
A die What if…? the episode's most memorable moments come from the realization that Vision gave T'Challa's leg to Wanda Maximoff in order to keep her alive. While extremely haunting, the revelation is also reminiscent of Robert Rodriguez's feature film Grindhouse. Planet terror. In the cult hit from 2007, Rose McGowan's character Cherry Darling also has her own leg torn off by zombies, leaving her bedridden in the hospital, much like T'Challa. Ultimately, the film diverges somewhat, replacing Cherry's missing limb with a machine gun. However, regardless of Planet Terror A luscious conclusion, the similarities between Cherry and T'Challa's predicament are striking.
I'm a legend
Although there is no explicit reminder between What if…? and I'm a legend, the parallels between the two stories are striking. Not only do they feature an alternate New York City haunted by infected beings, but both also hint at their antagonists holding back human emotions. In I'm a legend, it is implied that vampiric zombies retain a semblance of human emotion, expressing rage when loved ones are killed. In the same way, What if…? reveals Wanda Maximoff cradling Vision's lifeless body, suggesting that, even as a zombie, she retains her feelings for him.
28 days / weeks later
There are several pointed references to both 28 days later and its sequel in What if…? Episode 5. For starters, the Empty Town that Bruce's Banner returns to is extremely reminiscent of Danny Boyle's iconic zombie feature. Plus, the train station scene is reminiscent of the most terrifying follow-up sequence 28 weeks later, in which the main characters navigate a London tube station in near total darkness.
Shaun of the Dead
While there is still a lot of debate about whether Edgar Wright's 2004 homage / parody on Geroge A. Romero's film is more of a comedy than a horror film, it does no doubt he has become extremely influential on his own. While What if…?, the heroes arrive at their destination, only to be confronted by an impassable crowd of zombies. Although they end up dealing with the problem in a very different way, the timing is eerily similar to Shaun's realization that he and his friends will have to walk through a crowd of zombies to get to the Winchester pub.
Related: Simon Pegg Needs Shaun Of the Dead 2 More Than His Blockbusters
Re-animator
Classic comedy-horror sci-fi film from 1985 Re-animator is one of the most beloved zombie movies of all time. So it's no surprise that Marvel decided to pay homage to the film by What if…? Much like the movie, Episode 5 features a reanimated head – in this case, Scott Lang. However, while Lang provides a welcome slight relief during the episode, the iconic severed head in Re-animator serves as the main antagonist. However, despite their different roles, the correlation between the two is clear.
Dawn of the Dead
To this day, George A. Romero's success in 1978 remains the archetype of the zombie movie, with unmistakable influence across the genre. Therefore, What if…? Episode 5 features several nods to the groundbreaking film, especially during the climax. The moment Peter Parker, T'Challa and Scott Lang's heads fly off in the Quinjet is strongly reminiscent of Dawn of the dead famous ending, in which two survivors escape by helicopter. While What if…? lacking the biting social commentary of the film, this Easter Egg is a welcome inclusion and a tribute to a classic.
More: Every Dead MCU Character Who Could Return In A Marvel Zombies Movie
Eternals (2021)Release date: 05 November 2021
Spider-Man: No Path Home (2021)Release Date: December 17, 2021
Doctor Strange in the Multiverse of Madness (2022)Release Date: March 25, 2022
Thor: Love and Thunder (2022)Release date: 06 May 2022
Black Panther: Wakanda Forever / Black Panther 2 (2022)Release Date: 08 Jul 2022
Wonders / Captain Marvel 2 (2022)Release Date: November 11, 2022
Ant-Man and the Wasp: Quantumania (2023)Release Date: February 17, 2023
Guardians of the Galaxy Vol. 3 (2023)Release date: 05 May 2023
Vin Diesel celebrates Paul Walker's birthday in emotional post
About the Author